Short Term Monastic Retreat
| | |
| --- | --- |
| 1. Objective: | To practice traditional Buddhist etiquette, to provide an opportunity for lay Buddhist disciples to experience monastic life so as to purify their minds. |
| 2. Date | 19th – 23th April 2023 (Wednesday – Sunday, 5 days) |
| 3. Venue | FGS Dong Zen Temple, Jenjarom (Short Term Monastic Retreat, 19th – 23th April 2023) Stadium Malawati, Shah Alam (Triple Gem Refuge & Five Precepts Ceremony, 23th Apr 2023) |
| 4. Eligibility | For individuals that possess Right Understanding and Right Views towards Buddhism; For individuals that wish to learn or experience monastic life; must be physically and mentally fit. |
| 5. Age Limit | Age 18-55 (Male disciples do not need to shave their heads.) / Maximum 300 participants |
| 6. Expenses | Meal and lodging expenses: RM100 (sponsored by Fo Guang Shan Malaysia) Education fees: RM50 (to be paid by participant during registration) Clothing: will be provided by the monastery (participants can bring along their own arhat shoes or to purchase from the monastery) |
| 7. Registration | Date: now until the maximum quota has been reached. Online registration: www.fgs.org.my (Deadline: 2 April 2023) All branches of Fo Guang Shan (FGS) in Malaysia Documents required:Autobiography (at least 300 words) Procedures: Upon completion of online registration form, kindly print out and put your signature on the interview confirmation form. Please indicate the date of signing and bring the interview confirmation form to interviewer. |
Attention: All participants of the short term monastic retreat must receive the Five Precepts.
Office: FGS Dong Zen Temple Address:PT2297 Jalan Sungai Buaya, Jenjarom 42600, Kuala Langat, Selangor. Contact:
+603-3191 1533
Whatsapp:
+6011-5978 9256
Contact persons:Venerable Miao Hao / Venerable Ru In / Venerable You Deng
Short Term Monastic Retreat Registration Guide
Step 1:
Those who want to sign up for the Short-term Monastic Retreat must first register with the FGS Malaysia Member Activity Registration page. Please go to [Online Registration] and click to register or login. If you are a registered user, please select [Login], and if you are a new user, please select [First Time Registration].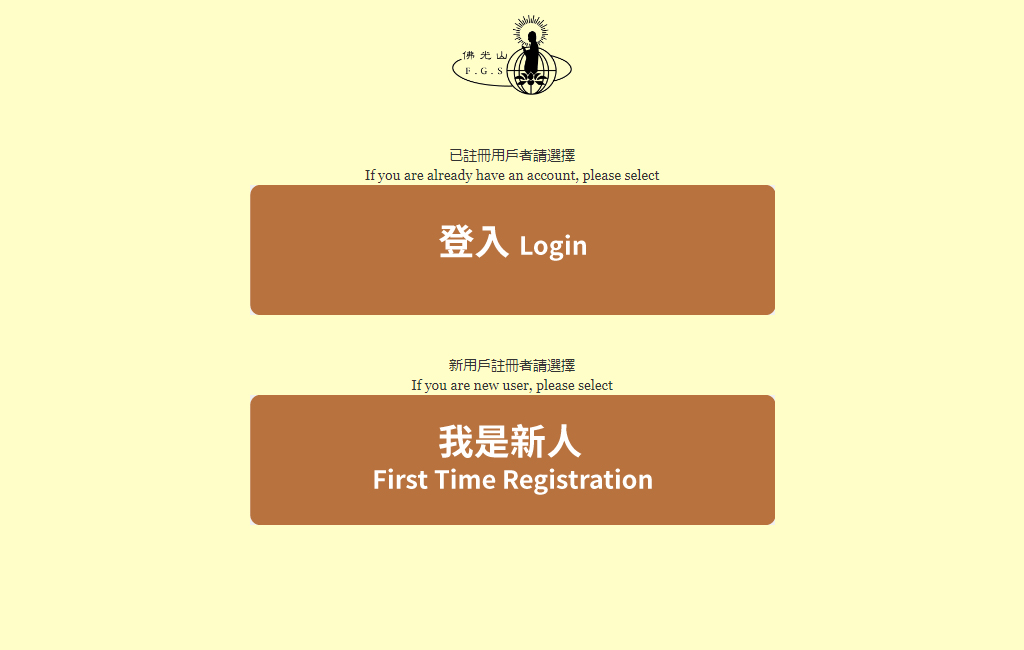 First Time Registration
Sign up for new user account. Fill in your personal details and click "Continue"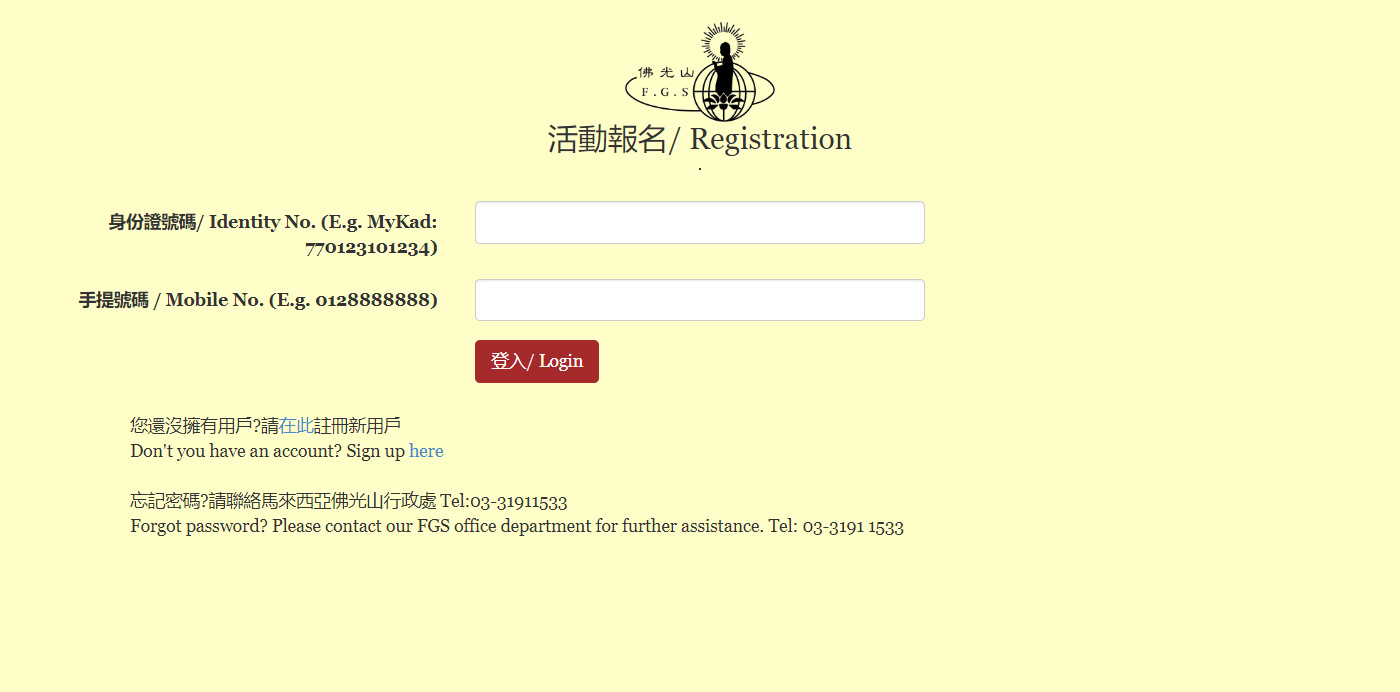 Registered User
Log in the registration website by entering your Identity Card number and mobile phone number.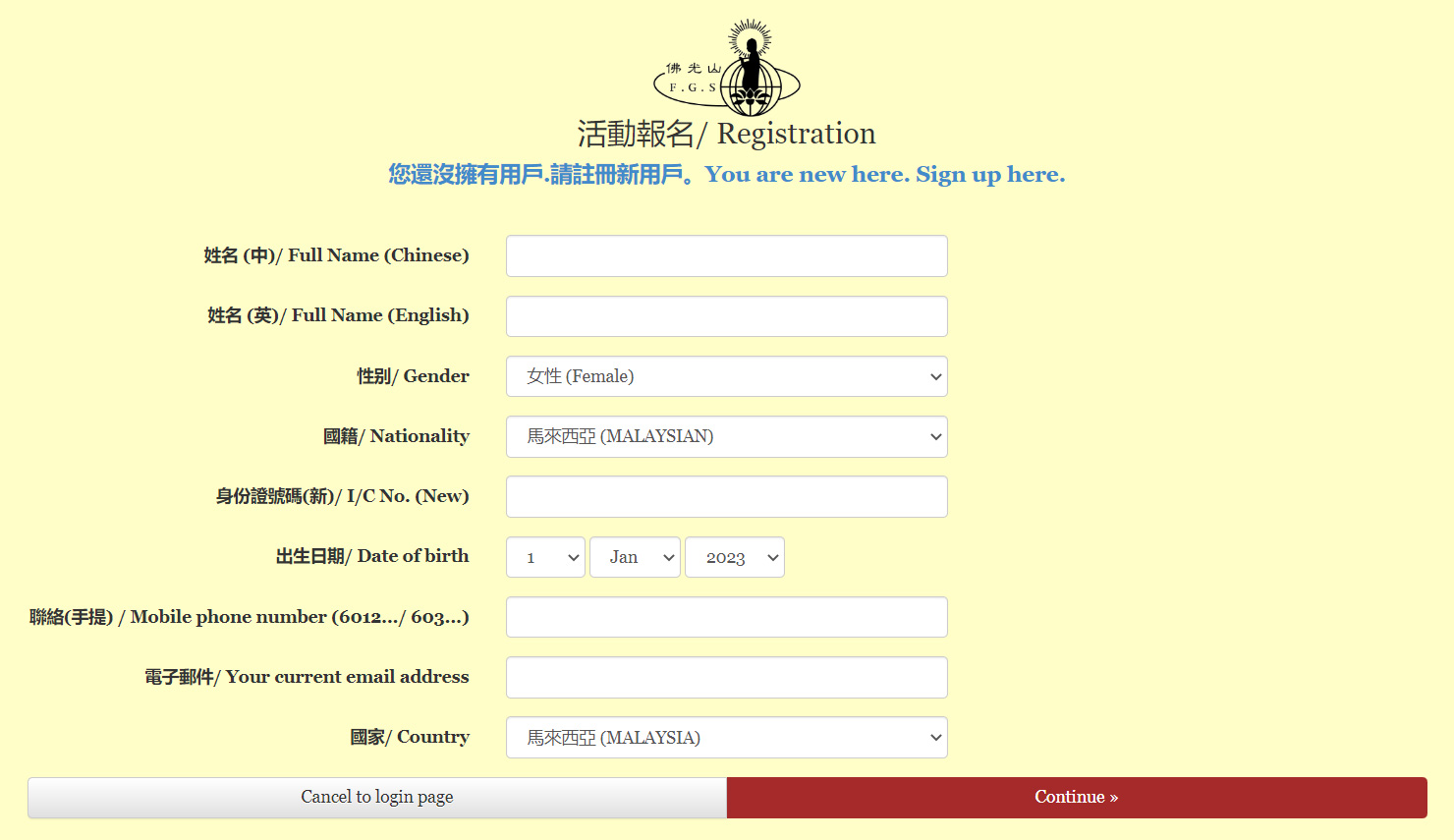 Step 2:
Click "Join Now" for Short Term Monastic Retreat in "Home" page.
Step 3:
Before registering, please read the introduction carefully.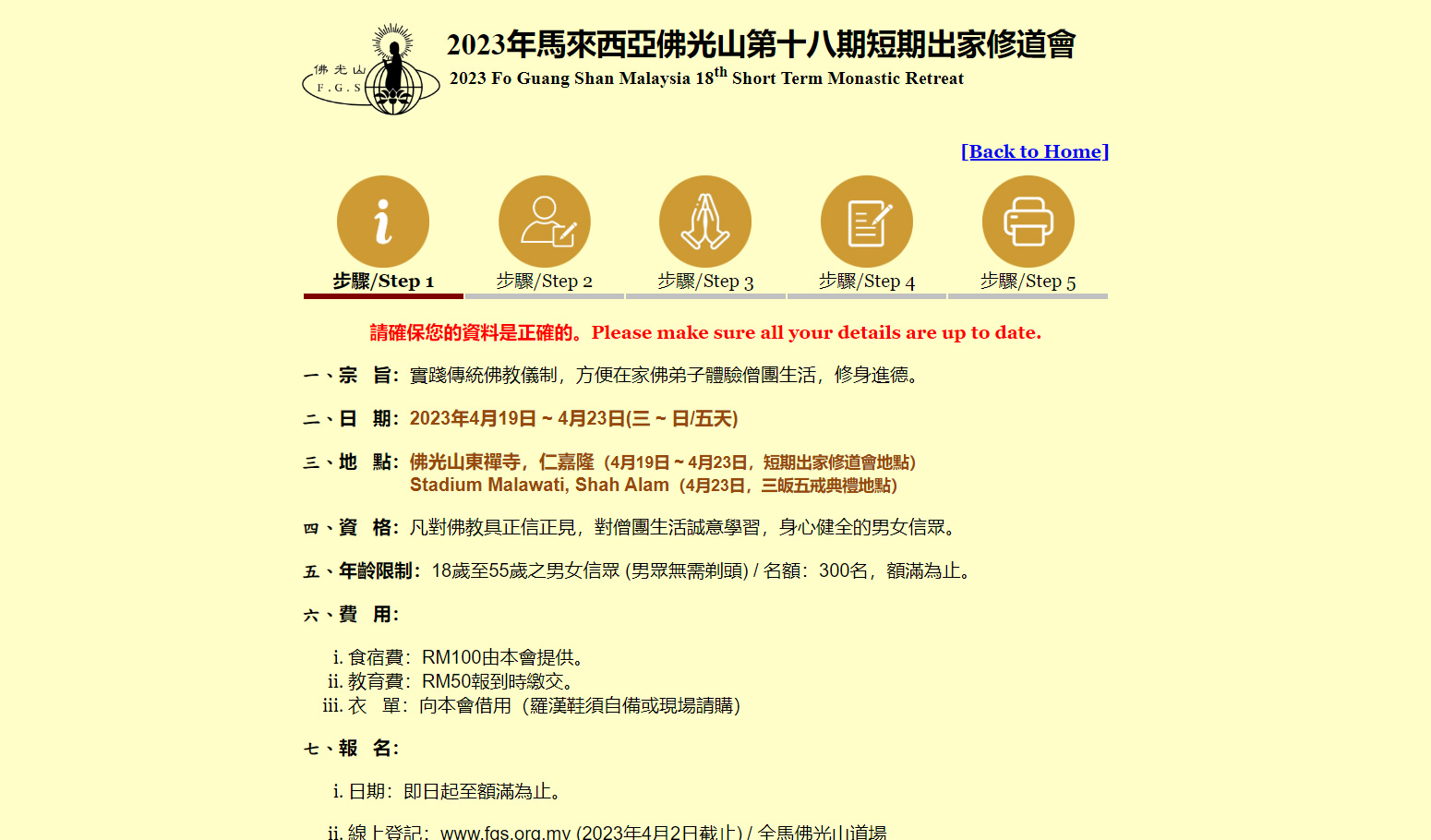 Step 4:
Make sure all personal details are up to date.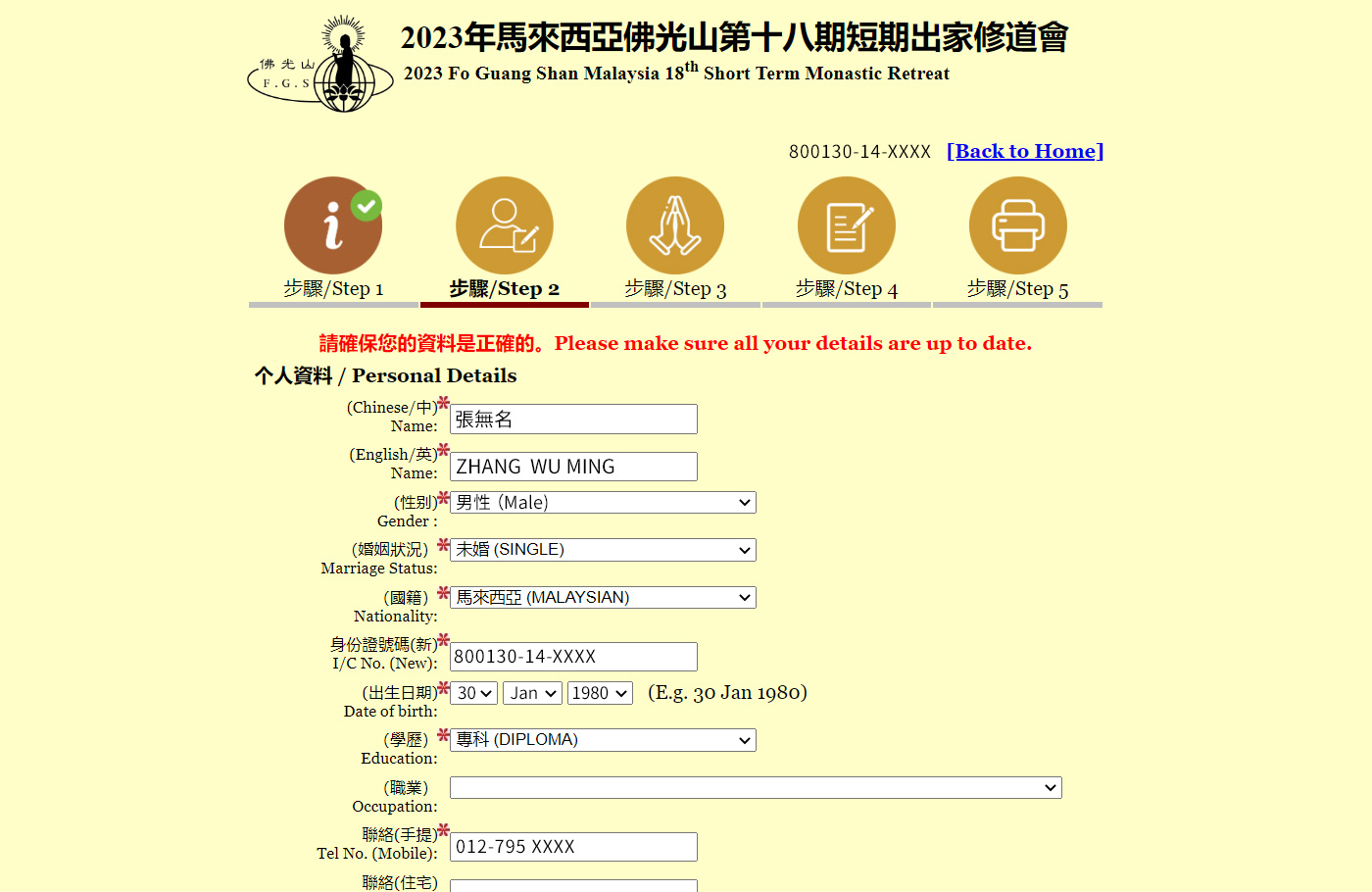 Step 5:
After filling in the details, click "Save and Continue".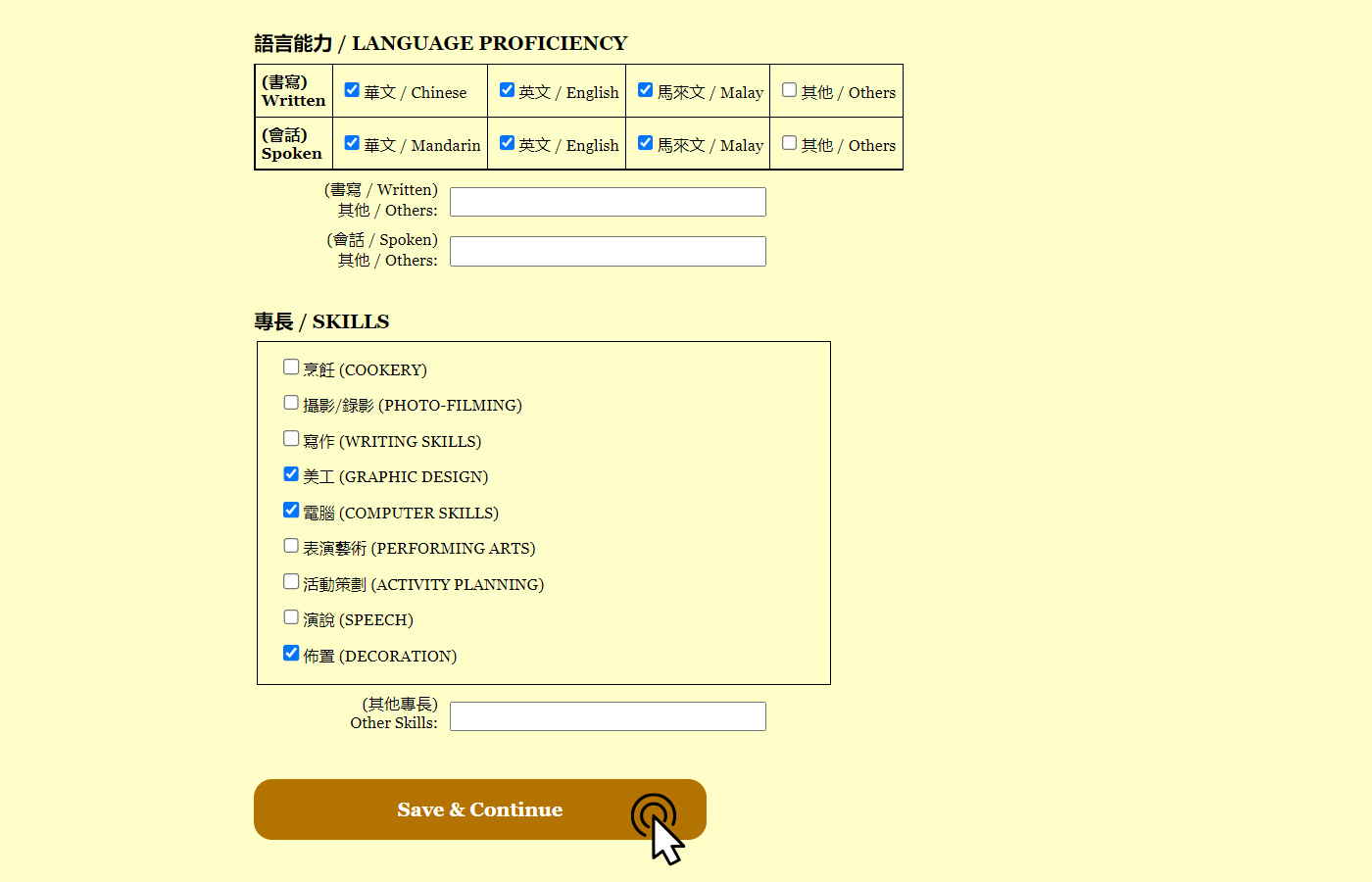 Step 6:
Select the interview venue and date, key in your biography (at least 300 words) and click "Submit".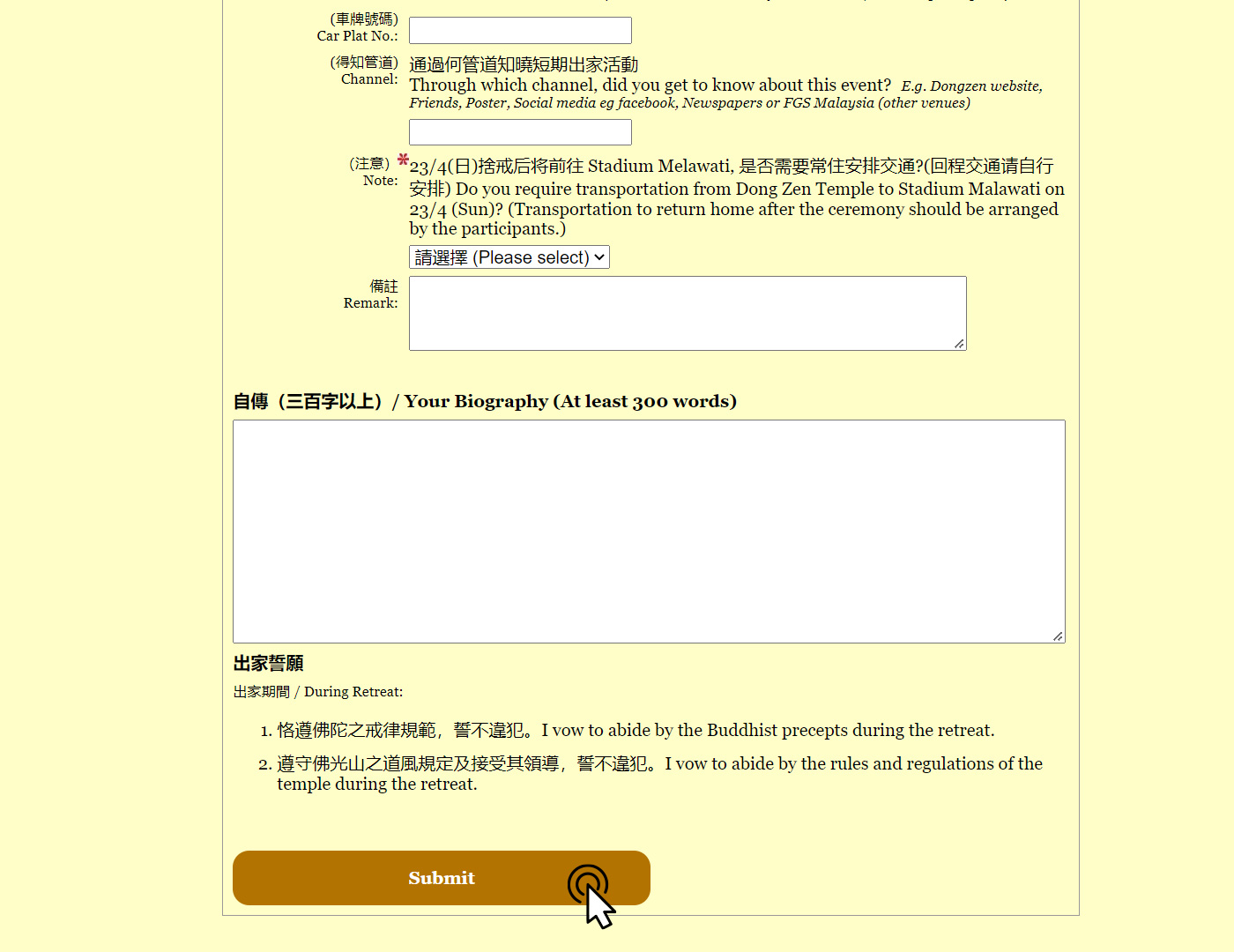 Step 7:
After submitting the registration form, please print out the notice and bring it along to your interview session.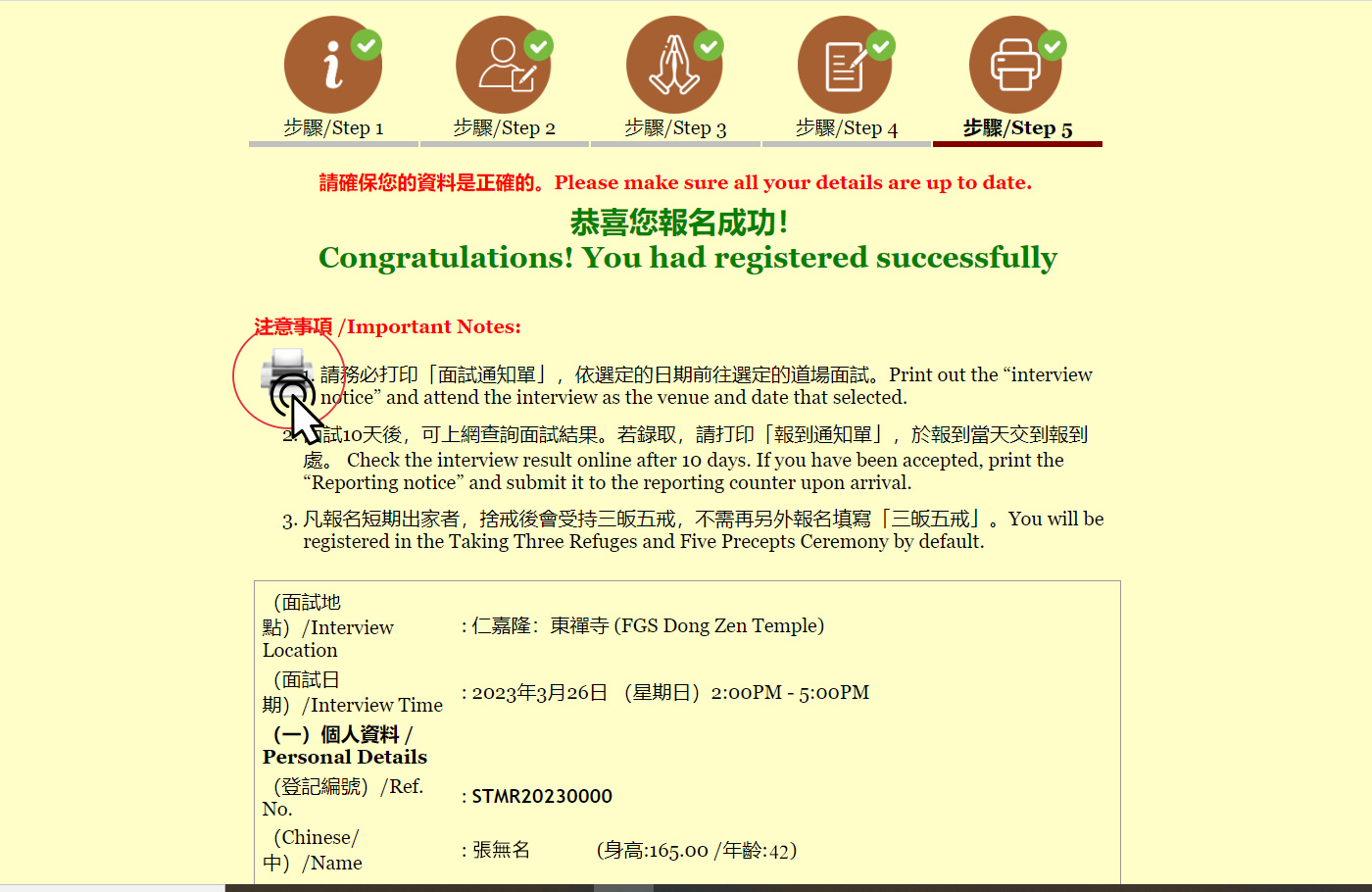 Step 8:
One week after the interview session, log in to the website. Select "2023 Short Term Monastic Retreat" in "My Activity" page. Please print out the registration summary and bring it along to the event registration counter.