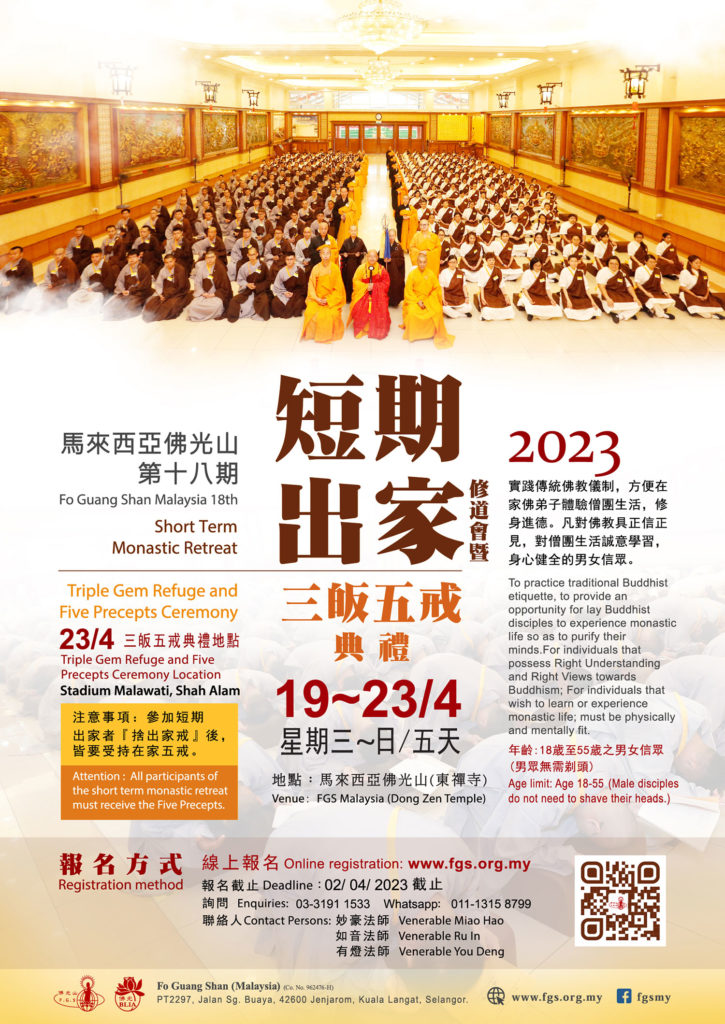 2023年馬來西亞佛光山第十八期短期出家修道會
2023年馬來西亞佛光山第十八期短期出家修道會报名人数已額滿,目前停止接受報名。
不便之處,敬請見諒!
2023馬來西亞佛光山短期出家修道會籌備處 敬啟
2023 Fo Guang Shan Malaysia 18th Short-term Monastic Retreat has reached maximum capacity and the registration is now closed.
We apologize for any inconvenience this may have caused.
With metta,
Fo Guang Shan Malaysia
Short-term Monastic Retreat Organizing Committee
各位短期出家報名者请注意:
請務必列印面試通知單,並依選擇日期至道場面試。

Attention: All participants of the short term monastic retreat
Please print out the notice and bring it along to your interview session.
请点击以下链接下载面試通知單或報到通知單。
Please download Interview Notice / Registration Notice via link below:
辦事處:佛光山東禪寺
聯 絡: +603-3191 1533
Whatsapp: +6011-13158799
聯絡人:妙豪法師 / 有燈法師 / 陈丽璇