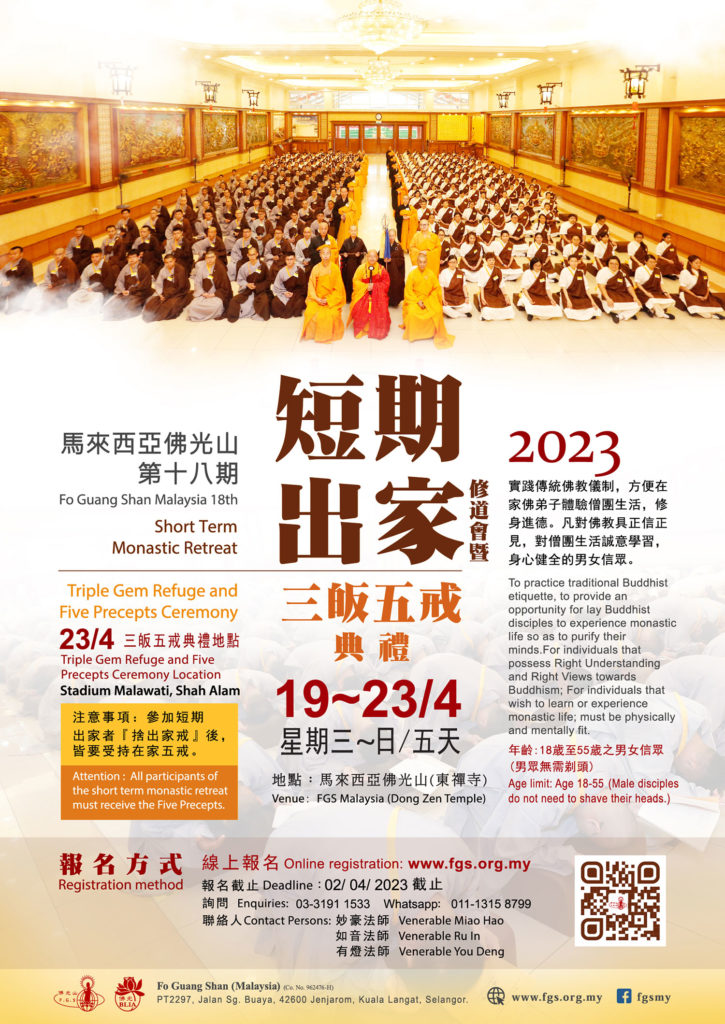 2023年馬來西亞佛光山第十八期短期出家修道會
宗旨:實踐傳統佛教儀制,方便在家佛弟子體驗僧團生活,修身進德。
日期:2022年4月19日 ~ 4月23日(三 ~ 日/五天)
地點:佛光山東禪寺 (仁嘉隆)
4月23日受三皈五戒地點: Stadium Malawati Shah Alam
資格:凡對佛教具正信正見,對僧團生活誠意學習,身心健全的男女信眾。
年齡限制:18歲至55歲之男女信眾 (男眾無需剃頭)
名額: 300 名,即日起至額滿為止。(2023年4月2日報名截止)
辦事處:
佛光山東禪寺
地 址: PT2297 Jalan Sungai Buaya, Jenjarom 42600 Kuala Langat, Selangor.
聯 絡: +603-3191 1533
Whatsapp: +60 11-1315 8799
聯絡人: 妙豪法師 / 如音法師 / 有燈法師
Objective: To practise traditional Buddhist etiquette, to provide an opportunity for lay Buddhist disciples to experience monastic life so as to purify their minds.
Date: 19th–23th April 2022 (Wednesday – Sunday, 5 days)
Venue: FGS Dong Zen Temple, Kuala Langat, Jenjarom.
23 April 2023, Triple Gem Refuge and Five Precepts Ceremony Venue: Stadium Malawati Shah Alam
Eligibility: For individuals that possess Right Understanding and Right Views towards Buddhism; For individuals that wish to learn or experience monastic life; must be physically and mentally fit.
Age limit: Age 18-55 (Male disciples do not need to shave their heads)
Quota: Maximum 300 participants. Registration deadline: 2 April, 2023
Office: FGS Dong Zen Temple
Adddress: PT2297 Jalan Sungai Buaya, Jenjarom 42600 Kuala Langat, Selangor.
Tel: +603-3191 1533
Whatsapp: +60 11-1315 8799
Contact person: Ven. Miao Hau / Ven. Ru In / Ven. You Deng